McCauley's SYSTEM DESIGN GROUP is a department within McCauley Sound which is dedicated to providing free factory design support to any contractor or consultant partner who may be considering a McCauley loudspeaker solution for installation.
OUR TIME. OUR MONEY. YOUR BENEFIT.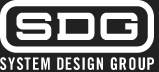 Leveraging McCauley Sound's in-house engineering expertise for the benefit of McCauley's contractors and partners, the System Design Group (SDG) provides factory design and support services for new installations and / or renovations which need a professional high output foreground loudspeaker system. The program is simple;
STEP 1: The consultant or contractor partner sends in any blueprints, drawings, CAD files, sketches and any other information they have about the venue. From 20,000 seat arenas to 200 seat churches, no job is too big or too small; McCauley Sound places value on developing a quality installation design regardless of scale.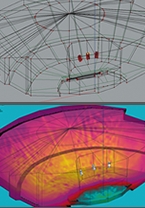 STEP 2: The SDG converts all the available information into a fully realized, three dimensional model, which is then imported into EASE acoustic-predictive modeling software. EASE allows the SDG designers to place "virtual" representations of McCauley's loudspeaker products into a 3D model of the venue, and conduct precise and detailed acoustic analysis of the performance and quality of the loudspeaker, as it would perform within the particular dimensions of the room. Clarity, intelligibility, SPL, coverage are all evaluated… and the installation design is refined… until the group realizes a solution which meets ALL of the performance, aesthetics and budgetary goals of the project. Typical turnaround is three business days.

STEP 3: The sum of the SDG's work is consolidated into a presentation folder, complete with design documents, supporting data and full-color renderings detailing the results of the EASE models predictions. Clarity, coverage and SPL are presented in easy to understand computer renderings. Complete details of the loudspeaker system's components, location, hang-points, weight, power requirements and more are detailed in a professional and concise synopsis document. To complete the package, all necessary literature and sales tools are also included… both in paper and electronic form.
STEP 4: The SDG's design package is delivered back to the partner contractor or consultant; to be used in bids, to be incorporated into an broader design specifications, included in sales presentations to the venue owners, or to otherwise help the partner prepare the job or lock down the sale.
The SYSTEM DESIGN GROUP program is a free service, available to our contractor and consultant partners.

- If you already have Partner status, and have an account with SDG privilages, please SIGN IN now.

- Otherwise, you will need to get in contact with a McCauley representative, who will help you get started with a login and password which will grant your company direct access to the SDG design and communications interface. To view and select a McCauley representative near you, visit our online COMPANY DIRECTORY or call us today at 1.877.McCauley.



NOT A MEMBER?

McCauley.com membership is not just for our dealers, distributors and design partners... anyone can join and become part of our global network of sound reinforcement professionals.



A RISK FREE PROPOSITION

Since the program's inception, nearly 90% of jobs prepared by the SDG have been installed… a testament to the value of the service and the quality and care that goes into each design. Yet for all the value this service can provide to the design process, the SDG performs this service at no cost and at no obligation to our partners.

Perhaps your clients are only considering the possibility of using a McCauley loudspeaker system for the installation? No problem, let the SDG create a design which will demonstrate exactly how a McCauley system will perform in the job… and then judge for yourself whether that is the correct solution to present to the client. The program runs for the benefit of our partners, free of charge, with no obligation to go forward with the any of the installation designs we develop.

It works. Bringing a professional design solution to the negotiating table is a proven way for our partner contractor's to win more jobs. It's like having a full design staff without any of the costs or risks. In the same respect, allowing the factory to be involved in the design process is a great way for our consultant partners to bring additional expertise and manpower to a design without investing extra time or money.

The SDG provides all expertise one might expect from an in-house design team with none of the cost or complication.

Consider the scope of this benefit; McCauley Sound hires and trains design engineers; McCauley Sound maintains the hardware and software needed; McCauley Sound leverages our expertise as a manufacturer with 25 years in the industry; while the partner contractor or consultant need only to take the sum of this investment and use it to earn more jobs and / or to complete existing jobs more efficiently. Unprecedented support from a manufacturer; no catch … no strings attached.

McCAULEY SOUND'S HISTORY OF QUALITY

Not only do our installation partners have the benefit of a professional, factory approved, loudspeaker system designs at no cost or obligation to them or their clients, they will also be specifying products from company with a long-standing reputation of quality and innovation. McCauley Sound's 25-year tradition of engineering and manufacturing excellence is continued in the service the SYSTEM DESIGN GROUP program provides.

Fast, timely, thorough, accurate… we put all the pride, intelligence and dedication into the SDG program as we do into the products we make.

FIND YOUR NEXT COMPETITIVE EDGE

Take advantage of this free service today... and put our time and expertise to work on your next project. For additional information on how to begin leveraging the SYSTEM DESIGN GROUP to bring a competitive advantage to your next installation / design job, contact McCauley Sound toll-free at 1 877 622 2853, login with a partner account now!